AgriPro Brand Hybrid Spring Wheat
A New Era for Wheat Production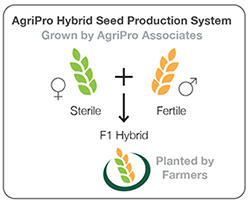 After more than 12 years of research and development, the AgriPro® brand is the first to bring commercial hybrid wheat seed and all of its benefits to farmers, starting with spring wheat in the Northern Plains region.
Hybrid wheat is set to revolutionize high-value wheat production by increasing yield potential and consistency, advancing agronomics, reducing risk, and improving grower ROI.
Hybrid Seed Production
The AgriPro Hybrid Wheat Production System is a breakthrough solution in wheat production that utilizes genetically sterile female plants grown in a whole-field scenario with male pollinator plants to maximize efficiency and deliver F1 genetics at a price point designed to boost grower ROI.
Selection of the right genetics—male and female —is key to achieving superior performance of the F1 and efficient seed production. The vast archive of AgriPro germplasm and molecular markers enables the process of identifying potential parent lines with the key traits.
Farmers in the Northern Plains will be the first to experience the advantages of AgriPro brand hybrid wheat. Seed is available for planting spring 2023—call your local AgriPro Associate to book seed.
Farmer Benefits
Increased yield consistency field-to-field and year-over-year, yield increases from heterosis, reduced seeding rate, and industry-leading genetics combine to significantly improve farm profitability potential and reduce risk.
Hybrid Wheat On-Farm Advantages
Increased yield potential
Heterosis/hybrid vigor
Yield consistency

Field to field
Year over year

Lower seeding rate—80% of normal
Enhanced agronomics
Enhanced weed competition
Lowered risk
Increased ROI
Enhanced end-use quality
Convenient—manage similar to high value variety production
Hybrid Seed Stewardship Agreement
Non-GMO
Where to Buy AgriPro Brand Hybrid Wheat Seed
AgriPro Associates are leading the way in the hybrid wheat revolution. They grow and condition AgriPro Hybrid seed. Call today!
AgriPro Hybrid Wheat Associates
North Dakota
Sam Ongstad (701) 341-2935
Birdsall Grain & Seed (701) 453-3300
Hankey Farm (701) 284-6176
Hefty/Pinnacle Seed (701) 756-7333
Noeske Seed Farm (701) 845-1300
Stein Seed Co. (701) 322-4350
Minnesota
AgriMAX (218) 891-2211
Capistran Seed (218) 891-7840
Petermann Seeds. (218) 483-3302
Frequently Asked Questions
Download the AgriPro Hybrid Wheat Brochure
Seeding Rate—80% of Normal
Seeding more acres per seed fill up and higher ROI are advantages of a reduced seeding rate. AgriPro® Hybrids are tested and selected at reduced seeding rates due to hybrid vigor. AgriPro Associates, or your AgriPro Hybrid Retailer, are your best source of information on seeding rates for your area, but expect a seeding rate of 80% of normal.
Use Normal Grain Marketing Channels
No special contracts or grain restrictions required—your grain crop can be marketed in all of the same channels that you use for varietal wheat.
Crop Management
Other than reduced seeding rates, AgriPro Hybrids should be managed with similar inputs to high-performing varietal wheat. Keys to success will include crop rotation, even stands, seed treatment, fertility based on soil tests and yield expectations, weed control and fungicide applications. Talk with your crop consultant and Syngenta Crop Protection retailer about agronomic input recommendations for high yield wheat.   
Is AgriPro Hybrid Wheat a GMO crop?
No. AgriPro Hybrids leverage our leading germplasm to deliver a technologically-superior crop, rooted in nature. Seed is produced using traditional wheat breeding tools and techniques.
Hybrid Seed Stewardship Agreement Required—No Saved Seed
Planting the grain from an F1 Hybrid as seed for the next crop  could lead to significant yield loss in that crop. The Resulting F2 will be genetically inconsistent, including sterile plants, and will lack the hybrid vigor gained with the F1 Hybrid. To prevent yield loss, growing AgriPro Hybrid Wheat requires a Hybrid Seed Stewardship Agreement, which includes no "saved seed." Ask your AgriPro Hybrid seed Associate or dealer for the Agreement.
Where is AgriPro Hybrid Seed Grown?
AgriPro Hybrid seed is grown by AgriPro Hybrid Wheat Associates in the same region where it will be planted by farmers. AgriPro Associates are professional seedsmen, with years of experience in growing, conditioning and handling seed crops.